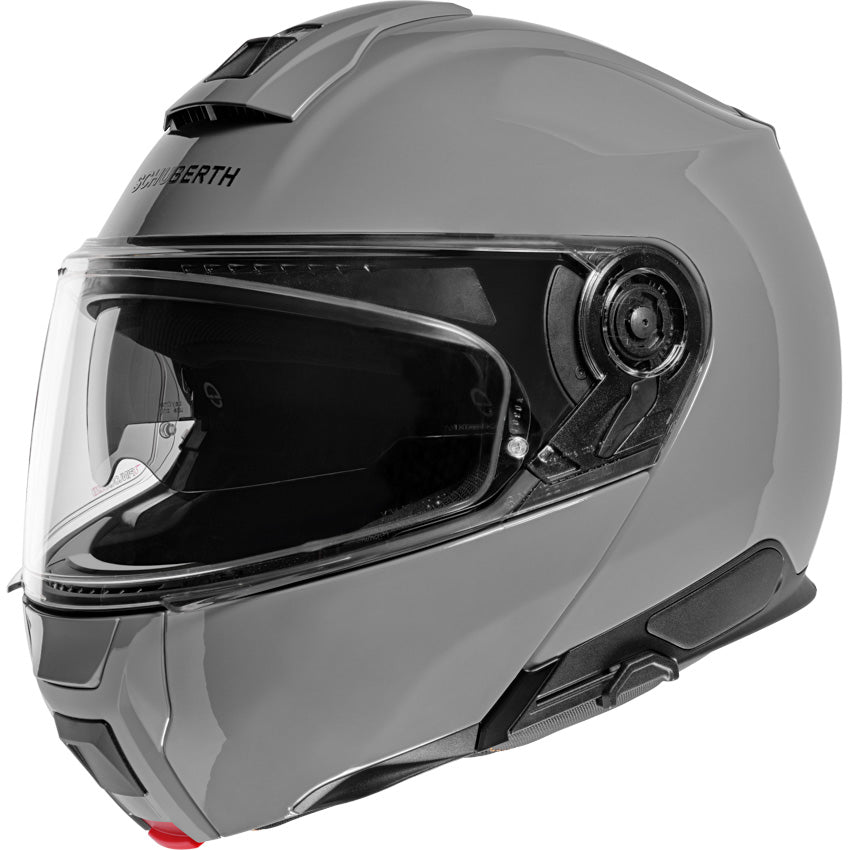 C5 ECE (Solid colours)
The SCHUBERTH C5 is the new state of the art helmet of the SCHUBERTH flip-up collection and the first helmet featuring the P/J dual homologation approved according to the new ECE-R 22.06 standard. The SCHUBERTH C5 blends ultimate safety, amazing aerodynamic performance with compact and light design evolving the iconic and timeless "C" philosophy. The interior, with its exclusive INDIVIDUAL seamless linings concept offers an unparalleled comfort level.
Two helmet sizes: Shell 1 [ XS (53) – S (55) – M (57) – L (59) ] Shell 2 [ XL (61) – XXL (63) – XXXL (65) ]
Helmet weight: Size 59: 1660g +/- 50g | Size 61:  1810g +/-50g
Helmet shell: Directly processed glass fibre (SCHUBERTH Direct Fibre Processing) combined with a special resin is compressed in a vacuum at high pressure to form an exceptionally sturdy yet uniquely light helmet shell DFP fiberglass shell reinforced with carbon fiber for improved shock absorption strength and lighter weight.
Inner shell: New EPS material for improved shock absorption and increased head cavity, featuring two densities for main part and sides New SCHUBERTH INDIVIDUAL seamless linings concept to allow fit customization.
Other notable features: 
ECE-R 22.06 homologation, featuring P/J double homologation.
Fiber Glass shell reinforced with carbon fiber for improved shock absorption strength and lighter weight.
New chin strap positioning to improve comfort in the throat area featuring Anti Roll Off System ( A.R.O.S)
Double chin air intake to improve ventilation , featuring exchangeable chin part filter. New back spoiler featuring new air extractor
New patented visor mechanism featuring Memory Function
Improved field of view thanks to new City Position mechanism and to the new V-lock sun visor mechanism.
Plug and Play communication system based on Sena 50S system with speakers, Mesh Antenna, FM Radio Antenna and Bluetooth Antenna preinstalled in the helmet shell
New SCHUBERTH INDIVIDUAL CONCEPT for unparalleled comfort.
New Neckroll concept for improved Aeroacoustics performance. Only 85 DbA at 100 km/h on a naked bike.
New chin lock mechanism made in glass fiber reinforced plastic for lower weight and improved handling.
Reflective Area on the Wind deflector , neck roll, visor sealing and helmet stickers for enhanced visibility while riding with open and close Chin Bar.