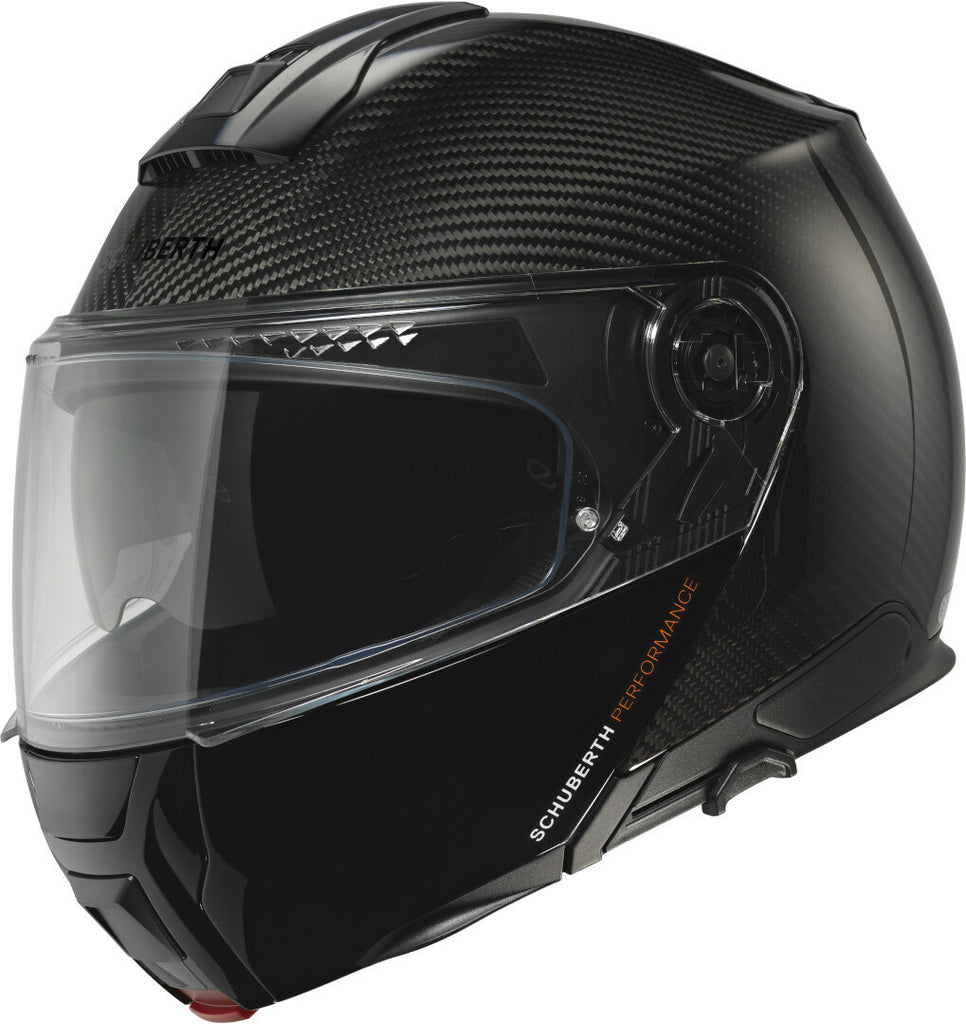 C5 ECE Carbon
The SCHUBERTH C5 Carbon is the first-ever SCHUBERTH PERFORMANCE motorcycle helmet. Its full Carbon shell is handmade at SCHUBERTH PERFORMANCE by the same hands of our highly specialized technicians, who manufacture our Formula 1 helmets. Thanks to the manual lamination and the autoclave curing processes, the shell of C5 Carbon combines an extremely light weight with an unparalleled performance. The new SCHUBERTH C5 Carbon features the P/J double homologation and respects the severe ECE 22.06 standards. 
THE GAME CHANGER
The full Carbon shell of the new C5 Carbon is produced with the same lamination and Autoclave curing processes of our Car Racing helmets, but even more important the shell is handmade by the same highly specialized technicians who produce the helmets of the current Formula 1 World Champion. 
ONE MAN, ONE SHELL
The manufacturing process of the new C5 Carbon is based on the "one man, one shell" principle, which means that the technician who starts the lamination has to complete the entire shell production process. 
THE ART OF "COOKING"
At the end of the lamination process the Carbon mold is closed and it goes at the vacuum station, where dedicated operators are carefully wrapping and vacuuming each mold to prepare it for the curing cycle into the autoclave.
 The SCHUBERTH PERFORMANCE autoclaves generate a combination of pressure and temperature within a precise time frame scheme. A cycle lasting up to four hours, transforms the Carbon fiber layers and their resin into a monolithic piece, which is able to offer an outstanding mechanical strength and lightweight performance.
TEAM UP WITH THE BEST PARTNERS
All our SCHUBERTH PERFORMANCE helmets are painted by a highly specialized and renowned company with many years of experience working as certified supplier of the most iconic supercar brands.
NEW VENTILATION SYSTEM
Ventilation makes the C5 Carbon a game changer in the Flip-up helmet category. An optimum head thermoregulation maximizes rider performance and comfort. For this reason, the C5 Carbon is designed to combine the ultimate ventilation with the dual chin air intake with exchangeable filter, combined with a new back spoiler featuring air exhaust and uncovered EPS ventilation channels.
SAFETY FIRST
At SCHUBERTH safety is our main focus. The C5 Carbon, thanks to his full Carbon shell, offers an outstanding mechanical strength combined with an extremely lightweight. The new C5 Carbon is featuring the P/J double homologation and is respecting the severe ECE-R 22.06 standard.
Just like the whole SCHUBERTH collection, the C5 Carbon benefits of the Anti-Roll-Off-System connected with a chin strap in a new advanced position for improved comfort on the throat area.
Two helmet sizes: Shell 1 [ XS (53) – S (55) – M (57) – L (59) ] Shell 2 [ XL (61) – XXL (63) – XXXL (65) ]
Helmet weight: Sizes 53/55: 1450g, Sizes 57/59: 1460g, Sizes 61/63 1600g